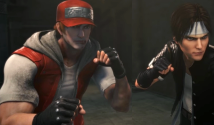 Early this morning, SNK uploaded the latest episode of The King of Fighters: Destiny. In Episode 23: Rugal Bernstein, it is revealed that Rugal is behind the KOF, using it to take control of the fighters by using the Black Crystals. Kyo and Terry cooperate to try and take down Rugal. However, they are forced into a desperate situation when faced with Rugal's overwhelming power and stone-cold killer instincts. Additionally, the Chinese studio behind KOF: Destiny (iDragons) announced 2 more seasons of KOF: Destiny and a CG movie of the Orochi Saga.

Below is a translation of the announcement courtesy of KOFWorld.

"The story starts with Fatal Fury and "KOF94" and goes until the end of "KOF97". The animation is expected to be made in three seasons, ending in the form of a big movie.
During an era when people didn't have much to keep themselves entertained, KOF games became the trusted companion of a generation. Today's King of Fighters is not only a game, but a symbol of childhood. This official animation makes up for the regrettable lack of one in the past, and I know it would definitely bring up fond memories in people's minds! Currently, rights to the first season have been developed by Yinhan Games, and the animation will be distributed by Tencent Games. Other related commercial co-operations are also underway — welcome all on board!

The next 2 seasons will take place somewhere between KOF '95 and KOF '97, with a CG movie to wrap up the Orochi Saga. Enjoy Episode 23 below!


Stay tuned on FightersGeneration.com for updates on Seasons 2 and 3.