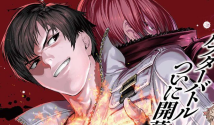 In addition to SNK's announcement of "new games" and an update to KOF XIV coming in 2018, SNK also announced a brand new manga adaptation called The King of Fighters: A New Beginning. The manga is being published by the Monthly Shonen Sirius' online manga app, and the first chapter is currently available to read for free online. The manga is in Japanese of course, but until a translation is available, we can certainly enjoy the sharp new artwork! Below, check out some preview images from the new KOF manga.


You can check out the first chapter of the manga here (courtesy of Shonen's online manga app). [UPDATE] The second chapter is also now available at mangaall! Below are some preview images from chapter two.


Stay tuned on FightersGeneration.com for future SNK news!