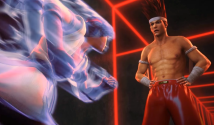 Let's catch up with the latest episodes of The King of Fighters: Destiny. Early this morning, SNK posted Episode 19: Labyrinth, in which the Fatal Fury Team infiltrate a cruise ship that has turned into a labyrinth, and are attacked by Mai and her teammates. In Episode 18: Escape, Athena and her teammates battle Kim Team who have turned violent. Athena tries to expose the secret of the Black Crystal with her Psychic Power.


If you need to catch up, here's a convenient TFG link containing the first 10 episodes.

As always, we'll post the next episode of KOF: Destiny on FightersGeneration.com once it's available.