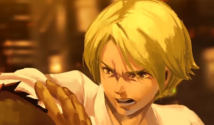 Hope you've been enjoying The King of Fighters: Destiny over the past few months... SNK has posted Episode 20 on Youtube. Episode 20 is a "Side Story" for Art of Fighting original, King. Like past side stories, the episode is done in a cool hand-drawn 2D art style. King works as a bouncer in order to pay the medical bills for her little brother, Jan. The owner orders her to kill Ryo who is on his way to save his little sister, Yuri, who has been kidnapped. The lives of King and Jan are dramatically changed by meeting the Sakazaki siblings.


If you need to catch up, here's a convenient TFG link containing the first 10 episodes.

As always, we'll post the next episode of KOF: Destiny on FightersGeneration.com once it's available.