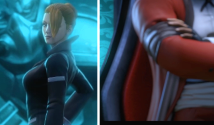 Happy Thanksgiving! Today, SNK posted the 17th weekly episode of The King of Fighters: Destiny, free to watch on Youtube. In Episode 17: BLACK CRYSTAL, a party is held on a cruise ship and the fighters gather to relax before the final round. However, the organizer (Rugal Bernstein) has set a trap for them. Meanwhile, Kyo and his friends sneak out of the tournament venue and bear witness to the power of the black crystal.


If you need to catch up, here's a convenient TFG link containing the first 10 episodes.

As always, we'll post the next episode of KOF: Destiny on FightersGeneration.com as soon as it's available.