>
Tuesday, September 11th, 2018

DOA6 Trailer Confirms Ayane, Marie Rose, Bayman, Honoka, Nyotengu & Phase-4, Releases Feb. 15th, 2019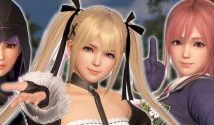 Koei Tecmo's latest DOA6 trailer confirms the return of 6 characters from the prequel and reveals the game's release date, February 15th, 2019. Just under 2 minutes long, the trailer confirms the return of Ayane, Marie Rose, Bayman, Nyotengu & Phase-4 in DOA6. According to the trailer's description, Nyotengu is a pre-order bonus character for the PS4 version and Phase-4 will "return as a DLC character" for people who buy the Digital Deluxe edition.

A new "Jurassic Park" style stage with dinosaurs is also revealed in the trailer (below), complete with dinosaurs interrupting the fight.


Stay tuned on FightersGeneration.com for continued coverage of DOA6.

Source: Team Ninja
Related News: (8-23-2018): 12 Mins of DOA6 Gameplay from Gamescom '18,
(8-19-2018): DOA6 Hitomi & Lei Fang Screens, Renders, Reveal Trailer,
(8-8-2018): DOA6 Gameplay from EVO 2018, Lei Fang & Hitomi Silhouettes,
(8-1-2018): Diego & Rig Revealed for DOA6, New Gameplay,
(6-18-2018): 30+ Minutes of DOA6 Gameplay from E3 2018
Related TFG Links: Dead or Alive 6, Ayane, Marie Rose, Bayman, Phase-4

Wanna get into streaming your favorite games? Download Streamlabs OBS today!
It's easy, FREE, and fun... Give it a try.
<- Click the Streamlabs image to download now!

Visit SHOP TFG to check out
awesome and rare fighting
game items for sale on FightersGeneration.com!

*NEW ITEMS ADDED*
SEPT. 14th, 2018!

✔ FOLLOW FIGHTERSGEN ON:





.