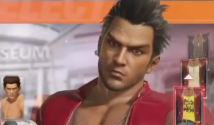 Dead or Alive 6 director Yohei Shimbori was present at Evolution Fighting Game Championships 2018 along with an early build of DOA6. At EVO '18, director Yohei himself threw down with some EVO '18 goers in his own game. The video (below) features a special message from the director and about 9 minutes of gameplay with footage of DOA6's first newcomer, known as the "Uncrowned Street Hero", Diego.



Additionally, Koei Tecmo's only EVO '18 reveal / announcement were these two silhouettes, which pretty much confirm Lei Fang and Hitomi for DOA6.


Dead or Alive 6 is currently planned for an "Early 2019" release.