>
Tuesday, September 25th, 2018

DOA6 Tokyo Game Show '18 Gameplay Roundup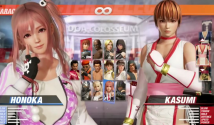 The latest build of Dead or Alive 6 was present at Tokyo Game Show '18 and featured playable versions of four of the latest characters to be announced for DOA6: Ayane, Marie Rose, Bayman, and Honoka. Here's a roundup of the latest DOA6 gameplay (nearly 2 hours of footage), including some footage of a special exhibition tournament held by Koei Tecmo. Enjoy the latest DOA6 gameplay from Tokyo Game Show '18 below!


Dead or Alive 6 is set for release on February 15th, 2019 on PS4, Xbox One and Steam.

Stay tuned on FightersGeneration.com for full coverage of DOA6.

Sources: 적크풍크,, 루리웹, PS360HD (also thanks to Delta Alpha for sending video links.)
Related News: (9-20-2018): DOA6 Screens / Renders for Ayane, Marie Rose, Bayman & Honoka,
(9-11-2018): DOA6 Trailer Confirms 6 New Characters, Release Date,
(8-23-2018): 12 Mins of DOA6 Gameplay from Gamescom '18,
(8-19-2018): DOA6 Hitomi & Lei Fang Screens, Renders, Reveal Trailer,
(8-8-2018): DOA6 Gameplay from EVO 2018, Lei Fang & Hitomi Silhouettes,
(8-1-2018): Diego & Rig Revealed for DOA6, New Gameplay
Related TFG Links: Dead or Alive 6, Ayane, Marie Rose, Bayman, Honoka

Visit SHOP TFG to check out
awesome and rare fighting
game items for sale on FightersGeneration.com!

*NEW ITEMS ADDED*
SEPT. 16th, 2018!

✔ FOLLOW FIGHTERSGEN ON:





.