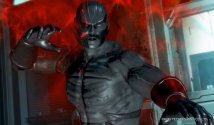 Koei Tecmo released a new Dead or Alive 6 trailer for Raidou, "The Regeneration of Brutality". Raidou uses Mugen Tenshin Ninjutsu and "mimicry" skills to copy moves from other fighters. The new trailer highlights some of Raidou's updated moveset and shows footage of some of DOA6's most recently announced new stages, such as the Chinese Festival stage.

Raidou was thought to be killed during an explosion after the first Dead or Alive tournament, but his body was secretly recovered and experimented on using DOATEC's biotechnology, and while that leaves Raidou without a mind of his own, he has now devolved into a madman who only craves strength and destruction.

Dead or Alive 6 will be released on PS4, PC, and XB1 on March 1st, 2019.

Stay tuned on FightersGeneration.com for continued coverage of DOA6.