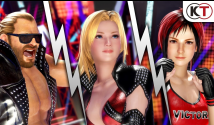 Koei Tecmo's latest trailer for Dead or Alive 6 reveals 3 returning characters, Mila, who debuted in DOA5, and two series originals: Tina and Bass Armstrong. Alongside new gameplay of the 3 revealed fighters, the new trailer introduces a new wrestling ring stage called "The Muscle," and shows a few short cinematic scenes from the game's story mode. Also just in are full-size character renders for Mila, Tina, and Bass, which you'll find below after the trailer.


The 3 character renders below were added to TFG's respective gallery for DOA6.


Dead or Alive 6 releases February 15th, 2019 on PS4, Xbox One and Steam.

Stay tuned on FightersGeneration.com for full coverage of DOA6.