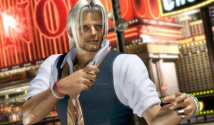 Two more returning characters have been confirmed for Dead or Alive 6... the Xing Yi Quan stylist, Elliot, and the Drunken Kung-Fu Master, Brad Wong. [UPDATE] Koei Tecmo released a new gameplay trailer for Elliot & Brad along with 6 new screenshots and their official character renders. A new stage titled "Unforgettable," shown in the new trailer and screenshots, is described as a museum-like stage featuring several locations from past DOA games - complete with their Danger Zones.


Sadly, Brad Wong's Japanese voice actor, Unsho Ishizuka, passed away last August... however, it was recently reported that Ishizuka's previous voice work will still be used for DOA6.

Stay tuned on FightersGeneration.com for continued coverage of DOA6.