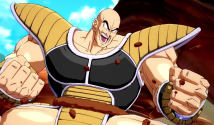 Popular Youtuber Maximilian Dood recently uploaded 3 additional character breakdown videos for Dragon Ball FighterZ. The new video breakdowns feature Nappa, Captain Ginyu and Goku Black. Since Max only had a limited time to test out the characters over at Bandai Namco, the breakdowns only provide a few quick tips and strategies for each character... but are certainly worth a look for anyone jumping into DBFZ on day one. There are only a few more characters who haven't received breakdown videos yet, and we'll post them here once they go live.


In case you missed the previous article from last week, below is the first batch of Dragon Ball FighterZ character breakdown videos.


Dragon Ball FighterZ comes to Playstation 4, Xbox One, and PC on January 26th, 2018. Stay tuned on FightersGeneration.com for full continued coverage of DBFZ.