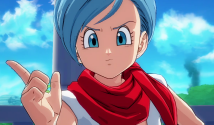 Arc System Works and Bandai Namco are starting off November 2017 with a bang, by releasing a brand new full-length Dragon Ball FighterZ trailer. The 4-minute Japanese trailer teases some brand new scenes from story mode, outlines a few system mechanics with fresh gameplay footage, and shows off the colorful online battle lobbies. [UPDATE #1] The English version of the trailer (with subtitles) has been added below.


[UPDATE #2] New Gameplay Details: As previously reported, DBFZ will feature a gameplay system requiring players to earn Dragon Balls during a match (shown a the bottom of the screen) by meeting certain goals during the fight.

Exact details on how this system works is not currently known, but some of the benefits of collecting Dragon Balls, include: Refilling health bars, reviving teammates, increasing health regeneration or "immortality", a free Sparkling Blast activation or "Ultimate Power". According to sources, this mechanic will be locked in a separate mode... so it may not have any relevance in competitive play.

Dragon Ball FighterZ comes to Playstation 4, Xbox One, and PC on January 26th, 2018. Stay tuned on FightersGeneration.com for full coverage of this highly anticipated title.