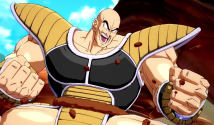 Arc System Works and Bandai Namco released 2 short gameplay trailers featuring the latest playable characters to be revealed for Dragon Ball FighterZ: Nappa and Captain Ginyu. The new gameplay trailers are only 40 seconds long, but show the first in-game footage of the quirky new combatants. Both fighters will utilize their own respective assist characters, making them interesting additions to the roster.


If you didn't catch TFG's previous article about DBFZ's Nappa and Ginyu, check out some HD screenshots and gameplay details about the 2 new fighters HERE.

Dragon Ball FighterZ comes to Playstation 4, Xbox One, and PC on January 26th, 2018. Stay tuned on FightersGeneration.com for full coverage of this highly anticipated title.