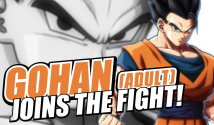 Adult Gohan and Kid Buu star in the latest character trailers for Dragon Ball FighterZ. More of a teaser than anything else, each gameplay trailer is under 40 seconds long and shows a few trademark attacks from each fighter. Dragon Ball FighterZ is set to release in North America and Europe on January 26th, 2018.



In case you missed it from a couple weeks back, below is the Gootenks trailer.


Dragon Ball FighterZ comes to Playstation 4, Xbox One, and PC on January 26th, 2018. Stay tuned on FightersGeneration.com for full coverage of this highly anticipated title.