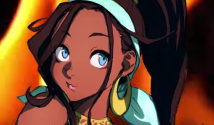 On Twitter, Vice President of Arika, Ichiro Mihara, posted a teaser image of SFEX series veteran Pullum Purna. The "possible" return of Pullum was previously announced by Arika in the way of concept art back in March. The fact that this image (below) shows Pullum's in-game character model almost confirms she'll appear in the game in the future. Arika still hasn't clarified how character DLC will be released for the game. *And yes, the image seems to have a weird typo or smiley at the end.


Fighting EX Layer is confirmed to be playable at next weekend's CEO 2018 (which yours truly will be attending). Other upcoming titles playable at CEO '18 include Soul Calibur VI and Smash Bros. Ultimate.


And below is Pullum's Fighting EX Layer concept art which was shown in March '18.


Stay tuned on FightersGeneration.com for continued coverage of Fighting EX Layer.