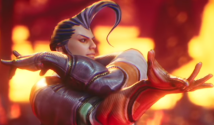 Next week, Fighting EX Layer comes out on PlayStation 4, marking the return of many Street Fighter EX personalities who haven't been in the spotlight since the PS1/PS2 era. Today, Arika released a new trailer showing the subtle graphical differences between the PS4 and PS4 Pro versions. (Of course, it's much easier to notice graphical enhancements in person on a proper HD/4K screen in front of you, rather than watching a Youtube video.) The 38-second trailer teasers the first in-game footage of Vulcano Rosso - pretty much confirming him as a post-launch DLC character!


We'll keep you informed about Vulcano Rosso's inclusion in FEXL once we know more details from Arika.

Stay tuned on FightersGeneration.com for continued coverage of Fighting EX Layer.