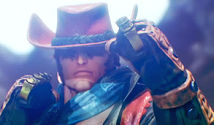 After a very long absence, SFEX fan-favorite characters such as D. Dark, Shadowgeist, Cracker Jack, and Blaire Dame are all set to return to action in Fighting EX Layer. The latest official FEXL gameplay by Arika shows off 12 minutes of action, including the first raw footage of Shadowgeist. We also get a better look at movesets for Sanane, D. Dark, and Hokuto. The new footage also allows us to appreciate the visual upgrades of the latest build of the game, featuring an updated HUD, improved graphics, and several new stages!


[UPDATE] Arika posted yet another 12-minute gameplay video, this time featuring footage of Jack (previously known as Cracker Jack), along with Shadowgeist, Doctrine Dark, Hokuto, and several others. The latest build shows significant updates to characters like Allen Snider, Darun, and Garuda (over their beta version counterparts), including character model updates, new voiceovers for special moves, and new animations.


Stay tuned on FightersGeneration.com for full coverage of Fighting EX Layer.