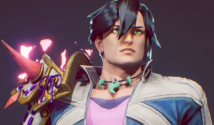 Arika has uploaded more gameplay footage showcasing the latest build of Fighting EX Layer. The 5-minute gameplay video (below) features newcomer Hayate facing off against Jack. Inspired by the original samurai character who debuted in SFEX2, the new Hayate shows off sword combos and a mighty shoulder attack. [UPDATE] An additional gameplay video featuring Allen, Darun, Sanane, Shirase, Hokuto & Kairi was added below!


In related news, Arika will be bringing a new playable build of Fighting EX Layer to this weekend's Combo Breaker 2018 (May 25-27).

Stay tuned on FightersGeneration.com for full coverage of Fighting EX Layer.