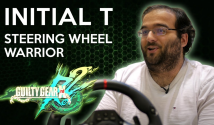 The FGC has some awesome unsung heroes amongst its ranks, including players who enjoy doing things "differently" and can still manage to be successful in their respective genres. Meet Initial T, the "Steering Wheel Warrior"... at Canada Cup 2018, Initial T defeated 2017 champion Dogura in the GGXrd REV 2 top 8 using a PS4 steering wheel gamepad (100% tourney legal)! In this Core-A-Gaming mini-documentary featuring the steering wheel warrior himself, Initial T talks about his win against Dogura, and the unconventional way he uses his gamepad of choice.

*Spoiler Alert: The video doesn't contain any Initial D music, so feel free to que your playlist at any time.


Just kidding... the regular music in this video is actually pretty good. 5/5

Core-A-Gaming on YouTube has some amazing fighting game videos and documentaries. Be sure to check them out.