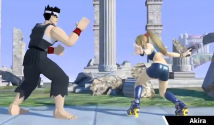 Believe it or not, it's been over a decade since a new Virtua Fighter game has come out. The most recent noteworthy release for the series was in June 2012, with VF5: Final Showdown coming to PS3 and Xbox 360 as a downloadable title. It's certainly been an uneventful era for Virtua Fighter fans... but there may be some light on the horizon. On October 2nd, Sega Japan renewed the U.S. trademark for the Virtua Fighter logo, alongside a new trademark called "Battle Genesis".


Before anyone gets their hopes up... it's important to remember that game companies routinely renew their trademarks - in no way does this confirm a new Virtua Fighter game is coming anytime soon. However, the fact that Battle Genesis is a new trademark filed for arcades and coin-operated machines could prove to be more interesting. The big question is... could this be the name of a new fighting game by Sega?

"Battle Genesis" sounds like it could be a fighting game, but it could be anything.


At the very least, this news confirms that Sega's Virtua Fighter franchise is not "dead". Virtua Fighter characters can still appear in other fighting and non-fighting game titles. In related news, Akira Yuki was recently confirmed as an "Assist Trophy" for Super Smash Bros. Ultimate for Nintendo Switch.


Until the next big Virtua Fighter game is released... die-hard VF fans can now go back to playing Virtua Fighter 5 inside of Yakuza 6 on PS4, or equipping VF costumes on their dancers in Persona 3: Dancing Moon Night.



Stay tuned on FightersGeneration.com for future Virtua Fighter series news.