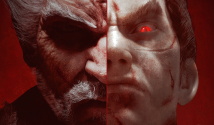 Producer Katsuhiro Harada recently elaborated on why the TEKKEN team chose to introduce a season pass for TEKKEN 7. On Twitlonger and Facebook, Harada stated "In the past, we had to stop all updates and support within 2 months after launch (due to the lack of development budget). With Season Pass, we can guarantee 1 year of additional development (after launch). With this system, we can do free updates and support for a long time." Below is a capture of Harada's Facebook post.


Another interesting thing Harada said in the post is "we do not sell classic Tekken characters. Paid DLC will be special content."

Could this mean the "free" updates Harada mentioned could potentially include classic characters, then? Harada didn't provide any further details regarding the "special" paid DLC content, so it's anyone's guess at the moment. Any way you shape it, this system of lengthening developer support for TEKKEN 7 sounds like a positive thing!