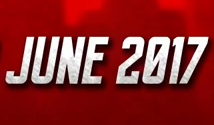 Bandai Namco finally announced TEKKEN 7's console release date - June 2nd, 2017. It's a bit later than expected, but the team reinforced their commitment to releasing a "complete" game with tons of content, requiring the delay from their original plan of an "Early 2017" release. In addition to the release date announcement is a brand new story trailer and screenshots of the latest confirmed character, Eliza. Also confirmed was "PS4 exclusive" content, including classic TEKKEN 4 & TEKKEN 2 costumes for Jin Kazama, King and Ling Xiaoyu, plus a new mode called Tekken Jukebox.

Enjoy the new trailer (below) and continue reading for full details on all the new TEKKEN 7 information released today!


Bandai Namco announced a Collector's Edition of TEKKEN 7, which includes: a Kazuya VS Heihachi 12" X 18" statue, CD soundtrack, steelbook cover and collectors box. Also announced is the TEKKEN 7 Deluxe Edition and Season Pass, which contains a "unique game mode", "special characters" & "exclusive costumes". New stages and costume packs are also mentioned for the Season Pass, which costs $24.99. [UPDATE #1] The Collectors Edition contents vary depending on the region. It appears the EU version contains the Deluxe Edition with the Season Pass, while the NA version contains the regular version without the season pass (and costs less).


Also by pre-ordering TEKKEN 7, players will have "early access" to narcoleptic vampress, Eliza. (She will become paid DLC at a later date.) Here are the first images and screenshots of Eliza, making her return from TEKKEN Revolution! [UPDATE #2] High-res Eliza character artwork added!


Next up, some screenshots of the "PS4 exclusive" costumes for Jin, King & Xiaoyu! Jin's classic (and fan-favorite) TEKKEN 4 hoodie returns, along with Xiaoyu's TEKKEN 4 "dress and sneakers" look and King's badass TEKKEN 2 suit.


A new mode called TEKKEN Jukebox will also appear in the PS4 version of TEKKEN 7. Similar to TEKKEN Tunes from TEKKEN Tag Tournament 2, this mode will allow users to listen to past music from the Tekken music library and create playlists in-game. Full details about this mode aren't yet known.


Below is TEKKEN producer Harada's statement regarding the delay to June 2nd, 2017.

"We were trying our best to get the game out at that time, to get it into the hands of users as early as possible,"

"We saw some titles--some from our own company and some from others--which didn't have a very good launch because of a lack of content, or whatever it was, that caused players to bash the product."

Harada and team wanted to avoid a similar fate, deciding to continue forward with its original content plan - "even if that meant the game would come a little later."

"Although this is the first time we've actually announced a date, it wasn't always June. It came through a process and we made some hard decisions and that was the result." 'early' was probably March or April from your average person's perspective, so we're not going to try and sugar-coat it. We realize it's not 'early,' I'm so sorry!"

We also have the "minimum" and "recommended" PC specs for TEKKEN 7 if you're planning on picking up the Steam version.


Stay tuned on Fighters Generation for full coverage of TEKKEN 7!