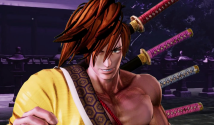 During a special livestream event from Japan, SNK debuted a new trailer for Samurai Shodown (2019). All three of the game's newcomers are introduced in the latest trailer, and their names are: Darli Dagger, Yashamaru Kurama and Wu-Ruixian! The trailer briefly highlights some cinematic story mode scenes and previews some awesome new gameplay footage! Last but not least, Samurai Shodown 2019's official release date was unveiled at the end of the trailer - June 27th, 2019!


Here's the original silhouette teaser image from SNK... if you remember, SNK did similar thing for upcoming characters in The King of Fighters XIV characters in 2017.


Once again, Samurai Shodown will be released first on PlayStation 4 and Xbox One on June 27th, 2019. The Nintendo Switch and PC versions will be released later in Q4 2019.

Stay right here on FightersGeneration.com for full coverage of Samurai Shodown.