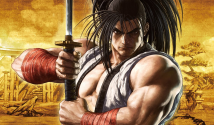 SNK has released the second official gameplay trailer for Samurai Shodown 2019, one of the main stage games at EVO 2019! The new trailer is a bit shorter than diehard fans might've hoped, but shows nearly a minute of new gameplay featuring Haohmaru, Galford, Jubei Yagyu, Earthquake and Nakoruru. SNK reaffirmed an "Early Summer 2019" release window and announced the title will be playable at PAX East 2019.


SNK also released the game's updated logo and a high-res promotional image of Haohmaru.


Stay tuned on FightersGeneration.com for full coverage of Samurai Shodown (2019).