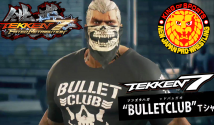 The second trailer announcing the TEKKEN 7 / New Japan Pro Wrestling Collaboration shows off a "Special Rage Art" for King based on Kazuchika Okada's Finisher, the Rain Maker. Also confirmed are "Bullet Club" and "Chaos" shirts as customization items! For those unfamiliar with New Japan Pro Wrestling lingo, the Bullet Club is a very popular faction of NJPW (currently lead by real-life fighting game fan, Kenny Omega) and is basically a new age NWO. (In short, they're badasses.) Additionally, custom NJPW player profile designs, lifebars and icons are also revealed in the new trailer, below.


In addition, check out this cool concept artwork of King in his Kazuchika Okada-inspired attire. Like other customizations in TEKKEN 7, parts of this costume can be used independently or with other costume parts! [UPDATE #3] Added higher quality / additional concept artwork below.


[UPDATE #1] Kazuchika Okada himself was present at a NJPW event featuring the arcade version TEKKEN 7: FR, alongside TEKKEN producer Katsuhiro Harada. In front of an audience, Okada played a match as King (dressed in his actual ring attire attire, of course). Later on in January 2017, Okada also donned the TEKKEN 7 King costume. Mind blown.


[UPDATE #2] You might've noticed the video (above), Okada is seen wearing an official "RAIN MAKER X TEKKEN KING - Anger of Beast" t-shirt. Details on the public availability of this snazzy shirt aren't yet known, but this article will be updated as soon as more info is available.


Also see TFG's exclusive TEKKEN 7 Concept Art Gallery for more.

✔ Stay tuned on Fighters Gen for TEKKEN 7 coverage and content!