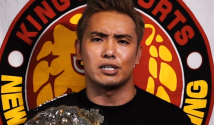 In addition to the announcement of Kuma, Panda, and Online Tournament mode for the upcoming console version of TEKKEN 7, a collaboration with TEKKEN and New Japan Pro Wrestling was also announced at the King of Iron Fist 2016 Global Finals! The trailer below reveals this exciting collaboration and features current IWGP Heavyweight champion, Kazuchika Okada! The trailer briefly shows off the new TEKKEN 7 outfit for King based on Okada's iconic ring attire.


✔FUN FACT: One of King's new moves in TEKKEN 7 is the "Rainmaker," made famous by Kazuchika Okada (one of his finishing moves). While it's unconfirmed at the moment, it's hinted that King may receive some "extra moves" inspired by Okada. And in case you've been living under a rock, King pays homage to many specific moves and wrestling holds of real life pro-wrestlers.

Are Bullet Club shirts or Shinsuke Nakamura-inspired attire in the works as well? (The NJPW fan in me says PLEASE HARADA... Yeeeeaooh!) No other specific content besides the Okada / King costume is 100% confirmed so far, but one would assume this collaboration would include more than just one wrestler.



Stay tuned on FightersGeneration.com for continued coverage of TEKKEN 7.