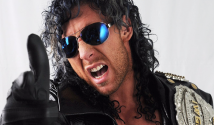 A pro-wrestler for New Japan Pro Wrestling, Kenny Omega, has been making waves in the FGC as of late. He recently appeared on Excellent Adventures with Gootecks & Mike Ross, and is becoming well known for not only his in-ring abilities, but his in-ring fighting game & video game references. He was recently spotted performing Cody's rock throw from Street Fighter. (Years later, he would appear as "mayor" Cody in Street Fighter V: Arcade Edition.) And several years ago, he became an underground internet sensation when he performed Zangief's Spinning Lariat and Final Atomic Buster (as seen in the intro of the video below).


Born in Winnipeg, Canada, the 32-year-old wrestler has been in the pro-wrestling business for over a decade. He worked in WWE's developmental division for a short time before moving to Ring of Honor, DDT, and Pro Wrestling Guerrilla. He currently works for New Japan Pro Wrestling and just became the new leader of the Bullet Club. In January 2015, he became IWGP World Junior Heavyweight Champion for the first time.

Kenny Omega FUN FACTS:

Omega's famed finisher in NJPW is called "One Winged Angel" which, of course, is named after Final Fantasy VII's Sephiroth. Another one of his earlier NJPW trademarks is throwing a Hadouken (which also looks like one of Necalli's normals). Later on, he introduced a jumping knee finished called V-Trigger - based on SFV's mechanic. He's also known for quoting Cody Travers and Alex during matches, imitating some of their moves and mannerisms as well. One of his past entrance music was also Dr. Wily's stage theme from Mega Man 1.


As he stated in a 2015 interview with Games Radar, "I've always been an avid gamer and (aside from wrestling) I credit games, Star Trek: The Next Generation, and Saturday morning superhero cartoons for developing a lot of my personality. As a kid, when the neighbors were out playing street hockey or tackle football, my friends and I were in my basement with the NES/SNES. In high school, despite my involvement on four different sports teams, I threw my duties of being a jock out the window and spent my spare time in wrestling training or on the PS2."


Regarding his subtle tributes to video game characters in the ring, Kenny explained, "That came about while trying to create a character in wrestling that was original, yet still me. Some nods are purposely more recognizable than others, and the rest are just me being a fanboy, paying homage to things I love. I knew that there was a chance it'd fall real flat, but I was lucky, and people got it. Because it wasn't a parody and something I did with conviction, I think it got a 'Hey, I remember playing Street Fighter!' type of nostalgic reaction."

Below, Kenny's Titatron (from a few years back) features health bars and some of his special moves.


In case you didn't know, Kenny Omega also has his own gaming Youtube channel featuring many of his Ultra Street Fighter IV match videos.
~TFG Webmaster, Frank Joseph | @Fighters_Gen

Sources: CapcomFighters, @XavierWoodsPhD, UpUpDownDown, v2lab, BasedMonster, @JustframAndre
Related News | December 2015
Xavier Woods Mentions Street Fighter, EVO, Final Round on Raw

Fighting games and pro-wrestling have had a deep-rooted bond since the earliest beginnings of the genre. We've become accustomed to seeing fighting game characters paying homage to various WWE icons in their movesets, but we're definitely not used to hearing the likes of "EVO", "Final Round ATL" and "Street Fighter" on Monday Night Raw.

Related News | February 2022
AEW x Street Fighter Collaboration Shirts

From AEW Champion Kenny Omega's obsession with video games, to actual wrestling moves based on video game characters' moves... AEW already has deep roots in gaming culture. AEW announced new Street Fighter collaboration shirts, which are now available:

Related News | January 2022
Xavier Woods and Kofi Kingston Show Up in TEKKEN 7 Gear

It's no secret that pro-wrestler Xavier Woods is more than just a normal fan of fighting games... he's a BIG fan. He also recently had a big win at October 2021's Crown Jewel event where he won The King of the Ring tournament. Since then, Woods adapted a new " King" gimmick...

Related News | May 2020
KOF: All-Star x WWE Collaboration Artwork

A collaboration that no one could've predicted... The King of Fighters: All-Star x WWE crossover is already making waves before the event's in-game launch tomorrow. As previously reported, Kofi Kingston, Becki Lynch, and The Undertaker will be the first characters to join the event.

Related News | June 2021
WWE's Asuka Did Motion Capture for Virtua Fighter 5

Before she was a WWE Superstar, female pro-wrestler Asuka did motion capture work for Virtua Fighter 5 back in 2006. On Twitter, Asuka (real name Kanako Urai) reminded fans that she was a motion actor for "many characters" during the development of Virtua Fighter 5...

(7-8-2016): Stonecold Steve Austin Gives Shoutout to K-Brad For His CEO '15 Entrance

Related TFG Links: About TFG, Tekken Tag Tournament 2 | TFG NEWS