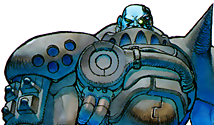 Another crossover costume from Capcom's Cyberbots: Full Metal Madness is on the way to Street Fighter V: Arcade Edition. Sagat and Shade from Cyberbots share comparable heights, eye coverings, and hairstyles (or lack thereof), making this crossover costume a perfect fit. They even have the same number of letters in their name.

Today on Twitter, Capcom posted a preview video of Sagat's upcoming Shade skin, which is headed to SFV's Extra Battle Mode on June 7th - July 5th. This crossover costume will also be accompanied by a classic soundtrack.


Back in December, Capcom added a Jin Saotome crossover costume for Ryu. Stay right here on FightersGeneration.com for continued coverage of SFV: Arcade Edition.