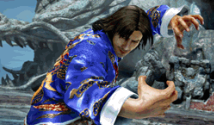 In addition to their new looks, Lei Wulong and Anna Williams will be getting alternate costumes in TEKKEN 7. The first two DLC characters of TEKKEN 7 Season 2 come with several unique (and customizable) costumes, including their "Classic" costumes. Along with his trademark TEKKEN 5 Kung-Fu attire, Lei shows off new Spec-Ops gear and a Chinese Kenpo uniform; while Anna Williams dons her signature red dress, a Sexy Pirate costume, and fuzzy jacket with shorts. Official screenshots below.

[UPDATE #1] Bandai Namco released a new TEKKEN 7 Season 2 Overview Trailer showing new costumes for Lei & Anna in action! The trailer also previews the new character & stage selection screens, updated menu UI, and other new features!

[UPDATE #2] Additional HD screenshots added at the bottom of this article.


In related news, the full patch notes for TEKKEN 7 Season 2 are live - containing updates and changes for all 38 pre-existing characters in the game.

Stay tuned on FightersGeneration.com for continued TEKKEN 7 Season 2 coverage.