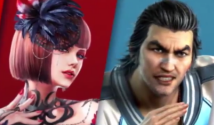 After the conclusion of TEKKEN 7's finals at EVO '18, Bandai Namco's Katsuhiro Harada and Michael Murray took the stage. After thanking fans for supporting TEKKEN 7 at EVO for the last 4 years, the team dropped a new trailer confirming a previously rumored Season 2 for TEKKEN 7! Two fan-favorite legacy characters, Lei Wulong and Anna Williams, will make their return in TEKKEN 7, in addition to 3 more (unannounced) characters. Last but not least, a collaboration with AMC's The Walking Dead will bring Negan into TEKKEN 7 as a guest character. [UPDATE] Official character art & screenshots added.


The beginning of the trailer also teases New Rage Drives and Wall Bounce Moves... but this gameplay update has yet to be explained by Bandai Namco. Currently, Geese Howard is the only character in TEKKEN 7 with a move that creates a wall bounce. More details on these new mechanics coming soon!

TFG Webmaster Comment: Of course I'm ecstatic about Lei, Anna, and 3 more characters coming to the game (that's way more characters than I was expecting for Season 2)... but I pretty much hate the idea of Negan in TEKKEN.

Negan is probably the least-likeable character from The Walking Dead (and precisely marks the point when the writing on the show turned to shit). Just my opinion, of course, but that's around the time I stopped watching the show - and I used to actually like TWD quite a bit.

Bandai Namco has proven they can make any character work in TEKKEN, but Negan seems like a very "odd" choice. I'm not sure I believe it. To me, it seems like the perfect opportunity for a "bait and switch". You never know with Harada. Walking Dead itself is (supposed to be) an unpredictable show, too. Season 9 of TWD is scheduled to premiere in October 2018, so I wonder if this will coincide with Negan's debut in TEKKEN? They've been building up Negan's death forever now, so he'll probably die this season... right?

Then there's the whole Glenn thing. *Spoiler Alert* Glenn was one of the first main characters Negan killed (brutally) on the show. Glenn is Korean, and was loved by the fans. Some people were even offended by how he was killed. Ohh wait... don't a lot of Koreans play TEKKEN and win EVO(s) and stuff?

Something seems fishy here. But I digress... here's my early speculation / prediction regarding Negan in TEKKEN 7... just for fun.

Don't forget, I did predict Geese Howard in TEKKEN 7 before there was any clue Geese Howard would be anywhere near TEKKEN. (Just saying.)

The thing I am actually excited about is a Walking Dead stage... they have tons of options. I'd vote for the prison or the farm as the new stage. (The first 3 seasons of TWD were great.) Anyhow, stay tuned for further impressions. Thanks for reading my humble opinions.

Ohh, and a bonus "TEKKEN Zombie Force" beat-em-up mode would be pretty cool too. Did I mention I hate Negan as a character?

~TFG WEBMASTER

Stay tuned on FightersGeneration.com for full coverage of TEKKEN 7 Season 2.