Friday, August 24th, 2018

TEKKEN 7 Season 2 New Customizations Include Summer Lesson & TEKKEN World Tour Costumes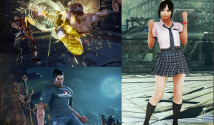 On Bandai Namco's Japanese website, TEKKEN Official, screenshots of new customization items for TEKKEN 7 Season 2 have surfaced. These customizations are an "extra bonus" for players who purchase the Season 2 Pass, and include 3 sets of customization bundles: TEKKEN World Tour Set, Summer Lesson Set, and Hit Effect Set. The majority of the new items will be available when Season 2 launches on September 6th. Check out the screenshots and full details below.

TEKKEN 7 - Season 2 Customizations Update


TEKKEN World Tour Set
Tekken World Tour T-shirts for all the characters except Kuma & Panda
Tekken World Tour Style customizations for Kuma & Panda
Fighting King's Raiment (Tekken World Tour Ver) for Noctis. *Noctis outfit will be made available for download at a separate and later date.*

Summer Lesson Set
Female Character Hair Styles:

Hikari Summer Tail, Allison Summer Medium, Chisato Summer Short

Female Character Costumes:

Hikari Summer School wear, Allison Summer Knit & Denim, Chisato Summer Dark Blouse

Upper Accessories:

Fluffy Hikari, Fluffy Allison, Fluffy Chisato

Player Customize Sets:

Summer Lesson Gauge, Summer Lesson Plate, Summer Lesson Panel
Hit Effect Set
Imitative Sound Effects (4 pieces)
Feather Effects (6 pieces)
Dot Character Effects (3 pieces)
Chicken Mark Effect

In case you missed it, don't forget to check out the TEKKEN 7 Season 2 Balance Changes & New Mechanics video showing updates for all 38 characters!

Stay tuned on FightersGeneration.com for continued TEKKEN 7 Season 2 coverage.

Sources: TEKKEN Official, Avoidingthepuddle
Related News: (8-23-2018): TEKKEN 7 Season 2 Balance Changes \ New Mechanics Video,
(8-19-2018): TEKKEN 7 Season 2 Kicks Off September 6th, 2018.
(8-18-2018): Voice Actor for Heihachi Mishima Passes Away,
(8-5-2018): TEKKEN 7 Season 2 Brings Lei Wulong, Anna Williams & Negan,
(5-25-2018): "TEKKEN Vs. Street Fighter" Still on Hold, Says Harada,
(5-23-2018): TEKKEN 7 Free Update Coming May 31st, 2018
Related TFG Links: TEKKEN 7, Lei Wulong, Anna Williams

Wanna get into streaming your favorite games? Download Streamlabs OBS today!
It's easy, FREE, and fun... Give it a try.
<- Click the Streamlabs image to download now!

Visit SHOP TFG to check out
awesome and rare fighting
game items for sale on FightersGeneration.com!

*NEW ITEMS ADDED*
FEB. 5th, 2019!

✔ FOLLOW FIGHTERSGEN ON:





.