POSTED: Thursday, April 5th, 2018 (Apr. 25th, 2018)

TEKKEN 7 "How Did Noctis Join The Fight" Behind The Scenes Video Feat. Katsuhiro Harada & Hajime Tabata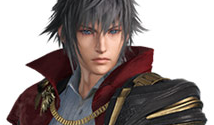 Bandai Namco Europe released a short "behind the scenes" video on how Final Fantasy XV's Noctis became a playable character in TEKKEN 7. Bandai Namco's Katsuhiro Harada and Square Enix's Hajime Tabata appear in the video to talk about how this unexpected collaboration came to be. Harada mentions that ideas of a Final Fantasy and TEKKEN crossover began way back in the PS1 era, and the opportunity to collaborate in 2018 was too good to pass up. *The audio in this video is entirely in Japanese so click the Youtube closed captioning option for English subtitles.

[UPDATE] Added part 2 of the "behind the scenes" video series, below.

Stay tuned on FightersGeneration.com for more TEKKEN news.


Visit SHOP TFG to check out
awesome and rare fighting
game items for sale on FightersGeneration.com!

*NEW ITEMS ADDED*
MAY 15th, 2018!

✔ FOLLOW FIGHTERSGEN ON:





.