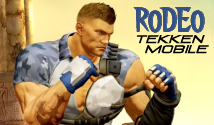 The new TEKKEN Mobile game for iOS/Android platforms is releasing worldwide beginning this month. The title officially comes to North America and Japan on March 1st, 2018. Bandai Namco released a new trailer debuting a newcomer to the series named Bo "Rodeo" Montana (who will join the game March 1st). In addition to the new trailer, check out high-res character renders for all new and returning characters appearing in the game. Also take a look at the global release schedule (below) to see when TEKKEN Mobile is available in your country.


Here's the global release schedule for TEKKEN Mobile.
February 1st - Eastern Europe, Latin America, South East Asia, Middle East, Africa
February 15th - United Kingdom, Germany, Austria, Italy, France, Spain, Russia, Switzerland, Benelux, Singapore
March 1st - United States, Japan, South Korea, Hong Kong, Taiwan

Returning characters in TEKKEN Mobile have additional renders featuring them in alternate costumes (some brand new). [UPDATE] Head over to TFG's updated article featuring over 60 additional character renders and first impressions of the game!