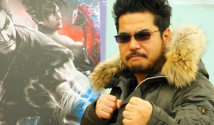 Today on Twitter, TEKKEN series producer Katsuhiro Harada announced that he has become the leader and supervisor of Bandai Namco's eSports Strategy Team. He addressed the TEKKEN, Soul Calibur, and Dragon Ball FighterZ communities directly, stating that he and the team will be dedicated to expanding the horizons of tournaments and events for these 3 franchises into 2019. Harada added that Bandai Namco is already planning many official tournaments for 2019, while continuing to support tournaments held by the community. Of course, Harada will also continue his role as TEKKEN 7 producer. Below is Harada's full message via Twitlonger.
Congratulations to Harada-san!

The future of TEKKEN 7, Soul Calibur 6, and Dragon Ball FighterZ as competitive titles in 2019 is looking promising with Harada at the helm. This announcement appears to be good news for Dragon Ball FighterZ fans especially, as DBFZ was removed from several major tournaments recently due to copyright issues.

Stay tuned on FightersGeneration.com for continued coverage of Bandai Namco fighting games.