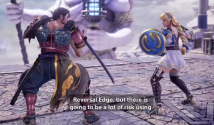 It's only been 2 days since the surprise announcement of Soul Calibur 6... and thankfully, we don't have to wait any longer to see some raw gameplay footage! Playstation uploaded a 10-minute gameplay preview from PSX '17 featuring an interview with producer, Motohiro Okubo. In the video, Okubo talks about SC6 development, the new "Reversal Edge" mechanic, comparisons with TEKKEN 7, and much more. After the 10 mins gameplay preview / interview (below), you can also check out the PSX '17 gameplay trailer.


Check out TFG's Soul Calibur 6 article from yesterday for high-res character art, 18 HD screenshots, announce trailer, and more.

Stay tuned on FightersGeneration.com for full coverage of Soul Calibur 6.