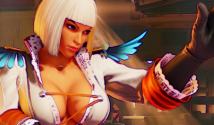 To date, Capcom has released Street Fighter V crossover costumes based on characters from the likes of: Viewtiful Joe, Darkstalkers, Star Gladiator and Ghosts & Goblins. The latest crossover costumes coming to SFV: Arcade Edition hail from Capcom's Devil May Cry and Megaman series. In this set, Ken Masters gets a Dante costume, Ed will dress as Nero, Laura cosplays as Gloria, and lastly, Rashid dons a ful-fledged Airman costume.


Both the Dante and Nero costumes will be available for purchase for $3.99 each on PlayStation and Steam the same day Cody arrives on June 25th. This brings us to the Gloria costume, which can be obtained in Extra Battle Mode.

Head over to Capcom Unity for more details about how to unlock these costumes in SFV: Arcade Edition.