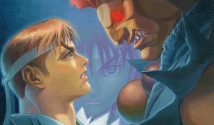 Capcom released their first SF:30th retrospective video earlier this month, covering Street Fighter 1 and the entire Street Fighter 2 series - noting the massive impact of these games in laying the foundation of the fighting genre. Capcom's latest 15-minute retrospective video focuses on the legendary Street Fighter Alpha series. It also features great commentary from FGC personality, James Chen. Us fighting game enthusiasts just love videos like this... it's a must watch!
Enjoy reliving the nostalgia, and for you youngins... brush up on your fighting game history.



Street Fighter: 30th Anniversary Collection releases on May 29th, 2018!