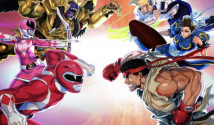 Power Rangers: Legacy Wars is a mobile fighting game currently available on Android and iOS devices. Sabin Brands and Capcom just announced a Street Fighter crossover with Power Rangers: LW, featuring playable characters: Ryu, Chun-Li, Akuma, M. Bison, Guile, and Cammy. The veteran Street Fighters look and animate very closely to their SFV incarnations. Below, check out the reveal trailer for this mobile crossover title. The game also features artwork by UDON Comics artists, Long Vo and Jeffrey "Chamba" Cruz.



Capcom's Yoshinori Ono had this to say about the crossover:

"The collaboration between Power Rangers and Street Fighter feels like a dream to me. The Rangers series that I also grew up watching as a kid have crossed overseas, became Power Rangers, and is now well received by all ages. I canít contain my excitement just thinking about the idea of our Street Fighter characters moving about in that world."

Check out some promotional images and artwork, below. The Power Rangers series is also celebrating its 25th anniversary this year!


Ryu, Chun-Li, Guile and Akuma will join Power Rangers: Legacy Wars on May 16th. Cammy will join the roster on June 1st, and M. Bison will be added June 15th. Each character unlock costs $4.99 (or earned by in-game loot boxes).

You can currently download Power Rangers: Legacy Wars for free from either Google play or the App Store.