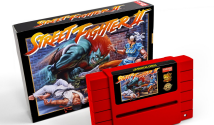 On August 30th, 1987, the original Street Fighter hit arcades, changing the history of fighting games and video games forever. Anyone who played the original Street Fighter in the late 80's knew it was something special, and it was succeeded by the biggest smash hit of them all, Street Fighter II. To celebrate this momentous occasion, Capcom is releasing a 30th Anniversary Edition of SF2 featuring limited edition Super Nintendo cartridges of the first ever console iteration of the series.

You can order the Street Fighter II Anniversary Edition on iam8bit for $100. The package includes a brand new, playable SNES cartridge, tri-fold box, premium instruction booklet, and "retro pack-in surprises".


So there are are two variants of the cartridge: The "Opaque Ryu Headband Red" (limited to 4500 copies)... and the "Glow in the Dark Blanka Green" (limited to just 1000 copies). The cartridge you get in the $100 box is RANDOM...

So good luck!


Stay tuned on FightersGeneration.com for further announcements regarding the 30th anniversary of the Street Fighter series. Long live Street Fighter!