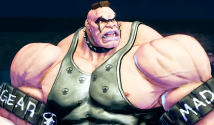 During Evolution 2017's Street Fighter V finals, the latest Season 2 DLC character for SFV has been revealed. As previous news suggested, Abigail will join the SFV roster and will be available July 25th - along with the Metro City Bay Area stage (based on Abigail's first appearance in Final Fight, way back in 1989). The 8'0" tall muscle-head is even more unproportionally massive than anyone remembers, and looks to be a very interesting addition to SFV's roster. Check out Abigail's reveal trailer, below.


[UPDATE] Check out Abigail's Movelist, V-Trigger Details, Screenshots & Story Artwork in TFG's updated article!

July 25th will add a ton of new content to Street Fighter V. As previously reported, Nostalgic Costumes for Alex, Ibuki and Juri, Ryu's classic SF2 stage (Suzaku Castle), and Capcom Pro Tour 2017 content will also become available on July 25th.