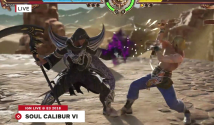 With E3 2018 now officially underway, we have some more great fighting game news. Soul Calibur VI producer Motohiro Okubo sat down with IGN to show off brand new SC6 gameplay. The video shows the first raw in-game footage of newly announced characters like Geralt, Taki, Maxi, and Siegfried. There's several full matches showing almost every playable character to date, along with at least 2 brand new stages - since they're using a brand new build of the game. [UPDATE #1] Added new E3 gameplay footage / interview below + updated character select & stage select screens.


IGN Live's Soul Calibur 6 gameplay and interview with producer Okubo starts near the 48:00 mark in the Twitch stream archive below.


[UPDATE #2] Here's some new information we learned about SC6 from E3.

Geralt will be the only guest character "on the disc" but Project Soul didn't deny that there could be future DLC guest characters
Geralt will appear in Soul Calibur 6's storyline.
Groh is not the only new character in the game.
The graphics have been improved from earlier builds.

Stay tuned on FightersGeneration.com for continued coverage of Soul Calibur VI.