POSTED: Tuesday, June 12th, 2018 (June 18th, 2018)

E3 '18 Soul Calibur VI Gameplay Roundup (4K Quality)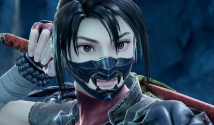 If you can't wait to revisit the tale of souls and swords, you must feast your eyes on these 4K quality Soul Calibur VI matches from E3 2018. It's the highest quality footage we've seen of the game thus far, especially since the graphics have been improved from earlier builds. Curiously, some of the new captured 4K footage is "slower" than the normal gameplay speed... but at least these videos provide an opportunity to appreciate the crispy visuals, animation, and new moves. *Note the 2nd and 3rd videos below feature a new stage called Cursed Moonlit Woods, which hasn't been shown before E3 2018. [UPDATE] Added 4k gameplay video from NVIDIA.


Here's the latest information we learned about Soul Calibur VI from E3 '18.

Geralt will be the only guest character "on the disc" but Project Soul didn't deny there could be future DLC guest characters.
Geralt will appear in Soul Calibur 6's story mode.
Groh is not the only newcomer in the game.
The graphics have been improved from earlier builds, especially the character models.

Stay tuned on FightersGeneration.com for continued coverage of Soul Calibur VI.

Sources: Wonkey, CerealKillers, Xbox Live FR, VG247, COGconnected, NVIDIA, 巴哈姆特電玩瘋
Related News: (6-10-2018): E3 2018 Soul Calibur VI Gameplay Footage,
(5-31-2018): Soul Calibur 6 Maxi Reveal Trailer,
(5-17-2018): SC6 Yoshimitsu Trailer, Artwork & Screenshots,
(5-1-2018): Soul Calibur 6 Taki Reveal Trailer, Artwork, Screens,
(4-12-2018): Soul Calibur 6 Siegfried Trailer, Artwork & Screens,
(3-28-2018): Soul Calibur 6 Geralt "Behind The Scenes" Showcase Video
Related TFG Links: Soul Calibur 6 - TFG Preview / Art Gallery

Visit SHOP TFG to check out
awesome and rare fighting
game items for sale on FightersGeneration.com!

*NEW ITEMS ADDED*
MAY 15th, 2018!

✔ FOLLOW FIGHTERSGEN ON:





.