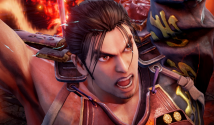 Over the weekend at Bandai Namco's Level Up Winter press event, some lucky fans got to try out an early playable demo of Soul Calibur 6. That said, we've got some brand new gameplay footage to analyze, along with new details and screenshots. In a recent interview with Gamereactor, producer Okubo mentioned that the new Reversal Edge mechanic is "chargeable by holding a button," and that the follow-up counter attack will initiate once the button is released. We'll be learning more about how Reversal Edge functions soon.

In the second gameplay video (below), Mitsurugi performs a "While Landing" attack (at 1:31). This confirms the return of these classic mix-up based attacks from SC2 and SC3 (which were removed in SC4 and SC5). While Landing attacks are executed by jumping first, then attacking.


Soul Calibur 6 gameplay details from Bandai Namco's press event.
The Supreme Defense: Reversal Edge – Read the opponent's move and deliver a counterattack while guarding, and take control of the battle by quickly proceeding into derivative moves. The Supreme Attack: Critical Edge – A trademark of each character capable of delivering damage to his opponent.
A Chance to Turn the Tables: Soul Charge – A temporary power-up taking place after pushing away the opponent with a shockwave.
Proof of Proficiency: Lethal Hit – A special effect which destroys your opponent's equipment parts when fulfilling set conditions of a move.

Also take a look at Soul Calibur 6's early character select and stage select screens. So far there are 20 slots for characters (and open space for more slots, of course).


Last but not least, 15 new HD screenshots! Also head over to TFG's Soul Calibur 6 preview profile for additional images, details and impressions.


Stay tuned on FightersGeneration.com for full coverage of Soul Calibur 6 news!