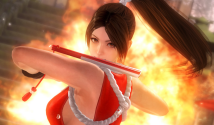 At EVO Japan '19, Tecmo Koei confirmed the return of Mai Shiranui as a guest character for Dead or Alive 6. Mai will be joined by yet another (unannounced) character from The King of Fighters XIV. Also announced was a DOA6 "Deluxe Demo" exclusive for PlayStation Plus and Xbox Live Gold subscribers starting Feb. 22nd (pre-download on Feb. 21st). The DOA6 Deluxe Demo will feature all 24 playable characters available at launch, Online Ranked/Lobby, Training, Tutorial, Command Training, Combo Challenge, and an intro to Story Mode.


Tecmo Koei also detailed the DOA6 Season Pass - which includes 2 additional characters and 62 costumes. Also confirmed for DOA6 are several DLC costume packs: 2 "Happy Wedding" packs, 2 more costume packs with 13 costumes each, and bonus costumes for Nyotengu and NiCO.


Dead or Alive 6 releases on PS4, PC, and XB1 on March 1st, 2019.

Stay tuned on FightersGeneration.com for continued coverage of DOA6.