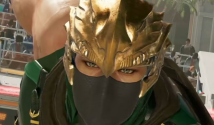 IGN posted a 13-minute Dead or Alive 6 video interview with gameplay from E3 2018. In the video, Game Director Yohei Shimbori answers some questions about DOA6 and drops some major new details. Here are some of the bullet points: The core mechanics will remain the same, appealing to beginner and casual players is going to be a "major sales point," and a Nintendo Switch version is not planned. Here's the full video with E3 '18 gameplay below, and continue reading for all of the new details on DOA6... the first new DOA game in 6 years.


When asked if there are going to be any major changes to the core gameplay for the "more technical" fighting game players, Yohei, through his translator Minglu Li, had this to say:


"The core mechanics of the game will remain the same."

Earlier in the interview, Yohei mentioned, "This time, we implemented a new feature that enables players to basically pull off a very flashy, cool, devastating combo by pressing one button." He continued, "This will allow beginner players to stand up to the more skilled players and even the playing field."

Yohei also mentioned "a big sales point" of DOA6 is to make it enjoyable and accessible for all types of players - referring to beginner and casual players of fighting games.

He clarified that the devastating 1-button combo move is not going to be a "game-changer" but it "adds another dimension" for higher-level players.


IGN's Matt Scoville mentioned that DOA5 had 7 Season Passes of DLC costumes, and asked if they plan to keep this DLC model for DOA6. Yohei stated:


"We haven't thought that far ahead... but the team will try to be creative on how to keep it going in the long run."


When asked about a DOA6 story mode, Director Yohei stated:


"We can't tell you anything about the story yet. We know the story for DOA5 was somewhat linear and also goes back and forth, so it gets confusing at times. This time we will try to make it easier to understand, for everyone."


Here are some other bullet points from the interview and recent reports. This list will be updated if new DOA6 details arise from E3 2018.

DOA6 will be the best-looking title in the series.
DOA6 will be PS4 Pro enhanced, enabling 4k resolution.
The faces of characters will become wounded throughout the fight, which is something the devs were hesitant to do in the past.
A Nintendo Switch version is NOT in development due to hardware limitations.
While they're toning down the emphasis on sexuality, they're "not ruling out" all of the types of costumes that appeared in previous games.
A big part of the sales point of DOA6 is to make it enjoyable and accessible for casual and beginner levels of players.
New gameplay mechanics in DOA6 include: Side Attack, Break Gauge, Fatal Rush, Break Blow and Break Hold.
A new Special button will execute new mechanics with 1 button press (and directional inputs).
Fatal Rush is a "powerful combo attack," done by just mashing the Special button.
Break Gauge is a super meter, a first for the series. It fills up when blocking or attacks land. Break Blow and Break Hold can be used when the meter is full.
Break Blow is an attack executed by pressing forward with the Special button.
Break Hold is a defensive technique that works against all kinds of attacks.

Dead or Alive 6 is planned for an "Early 2019" release.

TFG's Dead or Alive 6 profile is now online featuring the latest images & info!