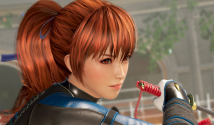 Koei Tecmo revealed today that Dead or Alive 6 is in development and is planned for a 2019 release on PlayStation 4, Xbox One, and Steam! The reveal trailer begins with some cinematics and transitions into gameplay. So far... DOA6 seems to have a more "mature" vibe, with less of an emphasis on skimpy costumes and over-sexualized females, and more focus on stage interactions, dynamic camera angles, facial expressions, and battle damage on characters.


After debuting the first Dead or Alive 6 trailer, IGN had this to say about the visuals and the gameplay.

While the visuals seem to be changing, Dead or Alive 6's core gameplay stays familiar to what the series always has excelled at: over-the-top martial-arts action with interactive stages. However, DOA6 does try to welcome beginner players by introducing a new combo and special attack system: Fatal Rush and Break Gauge. These powerful attacks use simple commands to allow new players to experience the thrill of fighting games without too much practice. For seasoned players, the timing required to execute them perfectly should add an additional layer of strategy.
Kasumi, Hayate, Hayabusa, Helena, Jann Lee, and Zack are confirmed as returning characters. According to Director/Producer Yohei Shimbori, the final character roster will include other familiar fighters as well as some brand new characters.

Believe it or not, the developers also told IGN that DOA6 will tone down the over-sexualization of female characters.

"We wanted to make a more cool and more mature Dead or Alive this time, and to that end we made a conscious decision to make characters less sexualized," Shimbori told IGN.

It goes without saying that this decision is heavily influenced by the fact that the industry is moving away from overly sexualized female characters in general, but Team Ninja seems to have a concrete vision behind this shift in style. If you look at the game's concept art, you can see that Kasumi is no longer just a fantasy figure for young boys; she's a warrior.

"The female characters are still attractive, as are the men, but first and foremost they are fighters," Saito Said.

In DOA6, female characters' breasts no longer jiggle and bounce in the exaggerated fashion the series became increasingly known for, and the costumes we have seen so far are less revealing. Females are depicted in a more natural way, which makes them feel more human and believable than before.

It's times like these when I wonder if certain fighting game developers do read TFG reviews... as I've pointed out for many many years that DOA's over-sexualization of its females is one of the things holding the series back from being great, and being taken seriously in the competitive fighting game community. Can Koei Tecmo get the series back on track?

The other issue Team Ninja needs to fix, this time around, is NOT charging over $1,000 USD for in-game DLC costumes. Micro-transactions of this magnitude are no friend to gamers or serious fighting game players. So far... DOA6 seems like a step in the right direction. I'm excited to see what Team Ninja does with this opportunity. Hopefully they do DOA "right" this time. A return to its roots - with some solid gameplay enhancements, perhaps?


Stay tuned on FightersGeneration.com for full coverage of Dead or Alive 6.

TFG's new Dead or Alive 6 profile will be updated with the latest images & information!