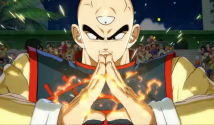 Bandai Namco and Arc System Works released short but sweet gameplay trailers for the latest playable characters to be officially revealed in Dragon Ball FighterZ , Yamcha and Tien Shinhan. Each gameplay trailer is only 30 seconds long, but shows the first footage of the newly revealed fighters.




In case you missed our last news article on DBFZ, check out the first HD screenshots showing Yamcha, Tien Shinhan, and Android 21 (below).


Dragon Ball FighterZ is coming to Playstation 4, Xbox One, and PC in February 2018. Stay tuned on FightersGeneration.com for full coverage of this highly anticipated title.