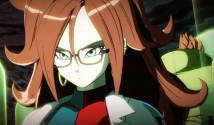 The TGS '17 story teaser trailer of Dragon Ball FighterZ shows the first footage of the recently revealed new character to the series, Android 21. The trailer reaffirms Dragon Ball Z creator Akira Toriyama supervised (and had a part in) the creation of Android 21, as she will appear exclusively in Dragon Ball FighterZ by Bandai Namco & Arc System Works. We also have some fresh DBFZ screenshots featuring Yamcha and Tien Shinhan. [UPDATE] Another new gameplay trailer from TGS '17 was added below.


And below, check out the first screenshots showing Yamcha, Tien Shinhan, and Android 21.


Dragon Ball FighterZ is coming to Playstation 4, Xbox One, and PC in February 2018. Stay tuned on FightersGeneration.com for full coverage of this highly anticipated title.