The Jack robot series was partly created by Dr. B. The original Jack is from Tekken 1, Jack-2 is from Tekken 2, Jack-3 is Gun Jack, Jack 4 was never playable in a game but can be seen in the Tekken 5 intro, Jack 5 is the playable version of Jack in Tekken 5, and Jack-6 of course is in Tekken 6.
Jane created Jack-5 him as an upgrade of Jack-4 and used the fifth tournament as a means of testing Jack-5. Returning to have his emotion program installed, Jane downloads Gun Jack's memories into him, but the results cause him to go berserk, ripping free and trashing the lab. As he brings down his arms in a crushing blow on Jane, the memories re-assert themselves and Jack stops, looking over his body in confusion. Jane goes to him and he picks her up in his arms gently, his original personality fully restored.
After Jack-5 had returned from collecting combat data at the King of Iron Fist Tournament 5, it returned to G Corporation's laboratory where Jane proceeded to run advanced combat algorithms based on its research. Soon afterwards, war between the Mishima Financial Group and G Corporation broke out. And just as large numbers of production model Jacks were being dispatched to all parts of the world, unconfirmed reports stated that the Mishima Financial Group had drawn up plans of their own to imitate the killer robots. The audacity of someone coping her Jack angered Jane greatly; thus, she sent Jack-6, the newest Jack, to investigate the incoming reports.

.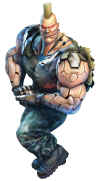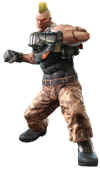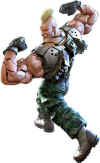 | | |
| --- | --- |
| | Updated: November 9th, 2012 |

In the original Tekken, you couldn't really tell if Jack was supposed to be a "real" dude or a robot (due to the sad polygonal power back in the day)... lol. Alas, Jack was an "awkward" design when he debuted, but once his "robot-ness" became more defined in the later of the series, he became immensely cooler.

It was great to see Jack finally return in Tekken 5 with a whole new moveset and a new voice. His new visual design also looked cooler than ever, and there is now no question that he is a badass robot who wants to punch your head off. lol. Needless to say, Jack-6 in Tekken 6 (and TTT2) is easily his coolest and most fleshed-out incarnation to date! He's got some hilariously badass moves and mannerisms, and he's actually developed a pretty vivid personality for a robot. Gotta love his hard-hitting fighting style and awesome variety of moves.

Fighting Style / Moveset
Personality / Charisma
Outfit(s) / Appearance
Effectiveness in series

Overall Score